Systems integration & custom development for specialist applications
We talk HD IP cameras, 3G networks, solar power, web systems & websites, remote access, international & rapid deployment, custom hardware & mounting solutions, image and media delivery, data acquisition.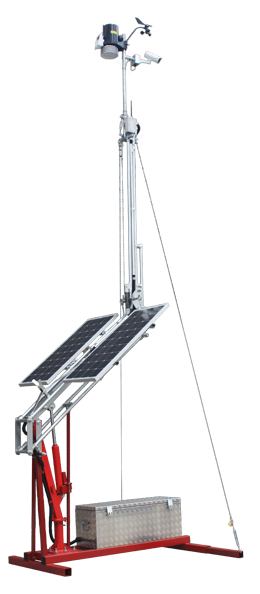 The RAPTOR.
Our mobile solar powered platform for extended remote IP camera and sensor systems. Customisable to your application and specifications, to deploy with ease and maintain systems remotely.
The RAPTOR rig is trailer mountable and allows cameras or sensors to be raised to heights of 7-8 metres while maintaining them in an upright position on a vertical axis for accurate calibration or camera positioning on the ground prior to raising. The arms are hydraulically operated, manual for reliability, and allow for a large tilt-able, solar array and 300Ah battery bank to power any internal systems.
As an option, an on-board downward facing HD camera provides motion and tamper detection, recording and alerting for the rig and its immediate surrounding area when deployed in the field as well as a constant visual account of the local conditions along with current system voltage information.